Laundry Service
Chicago's Laundry Service & Dry Cleaning Service
EcoLiving Laundry is a dry cleaning and laundry pick-up & drop-off service. We clean your laundry the green way. No harsh chemicals and biodegradable laundry products are used to clean your laundry. We use laundry cleaning products that are safe for children, people with sensitive skin and the environment. 
We provide laundry service to both residential and commercial businesses. We provide laundry pick-up and delivery to your home or office. If you are a business in need of commercial laundry service, please check out our laundry Commercial Service section. We offer customized laundry services that cater to your specific business needs. 
Let Ecolivng Laundry take care of your laundry and dy cleaning needs.
Reclaim your free time for things that matter to you the most. Request a laundry pick-up today!
The laundry pick-up and delivery service process is easy because you don't need to be home!
The laundry service process may vary based on your service schedule and building type but you can expect the following:
Schedule a pick-up using the online request form or mobile app. You can customize your order to meet your specific needs.
Place your dirty garments in a laundry bag. If you do not have a laundry bag, no problem! You can purchase a laundry bag through the online laundry pick-up request form or via our Ecoliving mobile app laundry pick-up form. 
We'll come right to your home / office to pick-up your laundry.
We'll use green products & processes to clean your laundry.
You'll receive your invoice prior to your scheduled delivery day.
We'll deliver your laundry to you professionally folded and packaged on your scheduled delivery day; you don't even need to be home.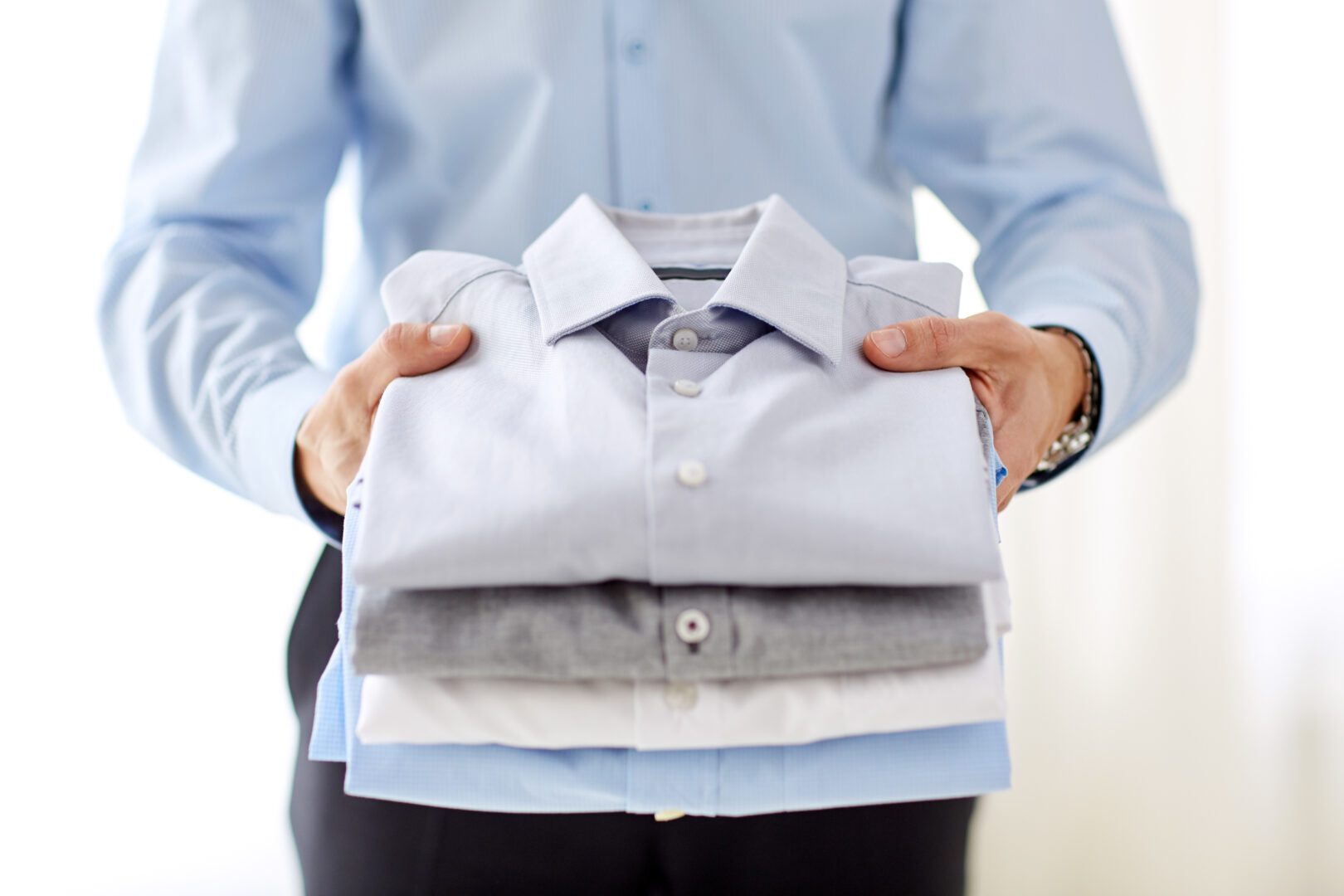 Wash & Fold Laundry Service Pricing*
Special Offer: (Online Pickup Request) $1.65 per lb CODE: ECO165 (MAX 2 USES)
Normal Service (online)**
$1.85 per lb
$25 Minimum order fee
3-day delivery from pickup date
Expedited Service (online)
$1.95 per lb (2 Day Service) ($25 Minimum order fee)                        $2.95 per lb (Next Day Service)($35 Minimum order fee)
Delivery must be 24 hours or more from pickup time.
Discounts and promotions not applicable
Men's Shirts Laundered & Pressed $2.95
Men's Shirts Dry Cleaned $7.29
Blouse Dry Cleaned or Laundered & Pressed $7.29
Sweater $7.29
Skirt $7.29
Pants $7.29
One Piece Dress $13.05
Two Piece Suit $15.05
Sports Coat $8.19
Jacket $13.35 and up
Coat $14.45 and up
3-day delivery from pickup date
$25 Minimum order fee
Normal Service (via mobile app)
$1.65 per lb
$25 Minimum order fee
3-day delivery from pickup date
Same Day Service (Temporarily Unavailable)
$3.95 per lb
$45 Minimum order fee
Pickup must be by 10am
Service area restrictions apply
Discounts and promotions not applicable
Additional charges apply to some garments.
Garments with hand washing requirements
Delicate processing, low heat or air drying requirements
Beading, pleats, sequins, lace or decorative accessories on garments
Smoke or water damage garments
Excessive animal hair removal
Special care fabrics (including but not limited to)

Wool (or Cashmere)
Velvet
Silk (or Rayon)
Linen
**Large and/or bulk items are billed separately (prices vary) such as bath rugs, over-sized blankets, mattress padding, regular/down comforters ($25 to $35). Hand washing requests additional charge. Pricing subject to change without notification. Please note: We DO NOT process laundry or dry cleaning orders that contain pet bedding or clothing, had exposure to bed bugs, lice or other contaminations. Normal pricing reflects the City of Chicago areas. Pricing for Chicago suburban areas is $1.75 per lb. Pricing is subject to change without notice. Pricing through the ecolivinglaundry.com site is the most current and accurate.
There is a $2.00 concierge door-to-door fee for laundry pickups and laundry deliveries where there is no elevator access and you request pickup and delivery at your apt/condo door. It is customary that laundry bags are placed in a designated area for pickup and deliveries. If you wish to have your bag picked up or delivered to your door, then fees are applied for this service. Laundry pickup and delivery is free if you reside on our normal servicing areas. Nominal pickup and delivery would apply to areas outside of our normal servicing territory.
*For Commercial Laundry Service pricing, call or SMS @ 224-216-2273, email ecolivinglaundry@gmail.com or complete our Commercial Laundry Service Inquiry Form.